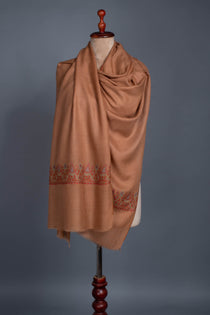 SITKA - 28x80"
Indulge in understated elegance with our Brown Minimalistic Embroidered Super Soft Pashmina Scarf. Crafted with precision, this exquisite piece showcases a perfect balance between simplicity and sophistication. The rich brown hue complements the super soft Pashmina fabric, while the delicate embroidery adds a touch of refined charm. Wrap yourself in luxurious comfort and style, as this scarf becomes a versatile accessory that effortlessly elevates any ensemble. Experience the sheer pleasure of draping yourself in this exquisite creation, exuding timeless grace and unparalleled softness.
• Condition: Brand New
• Size: 70 x 200 cm / 28 x 80 inch / 0.77 x 2.22 yard (Approx.)
• Material: 100% pure Pashmina/Cashmere. (Authentic, has no mix of Viscose, Silk etc.)
• Weave: Loose Weave, Woven on Wooden Handloom
• Thread Count: Low
• Feel: Very Soft
Hurry! Only 0 Left in Stock!
Order in the next to get it by
You may also like