Tangerine Hand Embroidered Cashmere - SAN DIEGO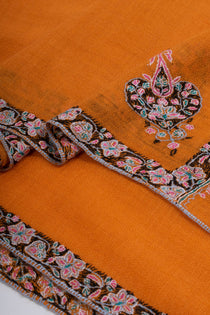 Tangerine Hand Embroidered Cashmere - SAN DIEGO
Introducing our exquisite Tangerine Cashmere Scarf, a blend of luxury and craftsmanship. This vibrant accessory is meticulously hand-embroidered, adding an artistic touch that elevates any ensemble. Crafted with the utmost care, it's a delightful choice for women seeking both warmth and style. Whether you're treating yourself or searching for the perfect gift, this scarf embodies elegance and comfort in every thread.
• Condition: Brand New
• Size: 70 x 200 cm / 28 x 80 inch / 0.77 x 2.22 yard (Approx.)
• Material: 100% pure Pashmina/Cashmere. (Authentic, has no mix of Viscose, Silk etc.)
• Weave: Loose Weave, Woven on Wooden Handloom
• Feel: Very Soft
Hurry! Only 1 Left in Stock!
Order in the next to get it by
You may also like